Every New Year, Vaada Foundation gifts SAFE DRIVING to the city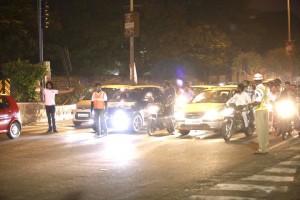 We all certainly know that New Year's Eve is one of those nights where celebrations are to the fullest, risking it all to road safety. The end of 2013 contributes to be the 6th consecutive year that Vaada Foundation's team volunteered to assist the traffic police on New Years' eve. Vaada Foundation believes that SAFE DRIVING is all what makes the coming year livelier. Vaada's team makes sure that the city welcome's New Year peacefully, without any major driving hazards being reported. Moreover, Vaada Foundation feels overwhelmed by the dropping numbers in road accidents on the Eve of New Year every year. This not only makes Vaada satisfied but also more enthusiastic to serve the society every New Year's Eve.
Along with the team, Vaada Foundation acknowledges all the youngsters who have devotedly been a part of the campaign, every year.