Vaada opening doors of opportunity for women through the Pink Auto campaign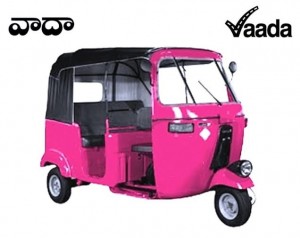 Until Vaada Foundation's team began the hunt for women drivers for its Pink Auto campaign, the campaign was just a concept of women safety and women empowerment. During the interview, Vaada realized that Pink Auto campaign isn't just a challenge for women safety on roads but also an opportunity, in fact, a RIGHT opportunity, as they said.
As women of Hyderabad never experienced the pleasure of serving through driving, Vaada's Pink Auto campaign flooded enthusiasm among the women for whom driving as well as serving the society was always an unanswered dream. The women who appreciated and enthusiastically came up to be a part of this campaign praised the opportunity in such manners that Vaada was completely overwhelmed. Moreover, Vaada also was pleased to know that though they were educated they always looked for such an opportunity that not only helped them serve the other women of society but also satisfied them at the same time. Very soon, the Pink Auto campaign will be launched in the city, being followed by the Pink Taxi campaign.
Vaada takes pride to take such an initiative, opening doors to such passionate women of our society.