Fighting for deserving wages for Home guards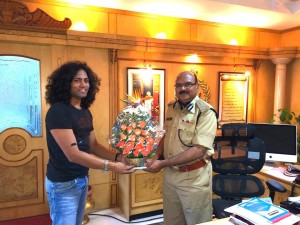 Vaada Foundation, over the years has not only been very much concerned about road safety but also about people associated to traffic department, on duty. Initially, home guards were not insured. After Vaada Foundations continuous appeals to consider the need for insurance for home guards, home guards were entitled to insurances. Further, Vaada Foundation realized that home guards were not fairly paid. There was a need for increase in their wages. This time too Vaada made all possible efforts, along with civic authorities to help home guards get their deserving wages. Mr. Prasad Rao, DGP Hyderabad has supported Vaada Foundation greatly in making sure that there is a deserving increment in the wages of the home guards.
Vaada Foundation, then, honors Mr. Prasada Rao with a bouquet of flowers for the support and efforts he has put in making the fight for the cause efficacious.